It's been a busy few weeks for us at Kion after attending both the AWS Public Sector Summit and AWS re:Inforce. Now we're back - and a little more rested! – and sharing some highlights from the event in Anaheim.
Learning and Sharing Best Practices
On Tuesday, our VP of Engineering, Brandon Tuner, joined Steve Schmidt, Amazon CISO, for his Fireside Chat. During this sponsor-only session, Steve discussed how AWS thinks about internal security and security products. According to Steve, the single biggest things security teams need right now are guardrails and automation to help reduce manual operations and ensure cost efficiency. Steve also recommended that customers invest in threat intelligence while partners and practitioners should be focused on how to secure large language models within their own companies and for their customers.
On Wednesday, our VP of Product, Shane Quinlan, presented his Lightning Talk, "Drive efficiency and security with a holistic CloudOps approach" in the Cloud Operations Security Lounge Theatre. This lounge was a new addition to the expo floor this year. Kion is an AWS Cloud Operations Competency partner.
During his presentation, Shane shared four best practices customers have used to rapidly build and reinforce CloudOps with "secure by default" implementations and confident users:
Put people first: rapid provisioning, hands-on learning, design with empathy.
Focus on guardrails: use policies to help teams be accountable, implement inherited controls
Start with continuous processes: focus on living artifacts, self-documenting compliance, and transparent monitoring
Keep it repeatable by sharing best practices continuously, using cloud-native tools, and adopting an everything-as-code approach.
Shane emphasized how CloudOps is really cloud enablement and inclusive of considerations like developer productivity and cost optimization. Lastly, when thinking about the term "secure by default," it means more than just scanning and remediating - it's also about prevention, guardrails, budgets, policies ... and Kion.

Wrapping it all up, Shane shared how Kion helped a large federal civilian agency fine-tune their cloud operations to achieve fast provisioning, cost efficiency, and continuous compliance.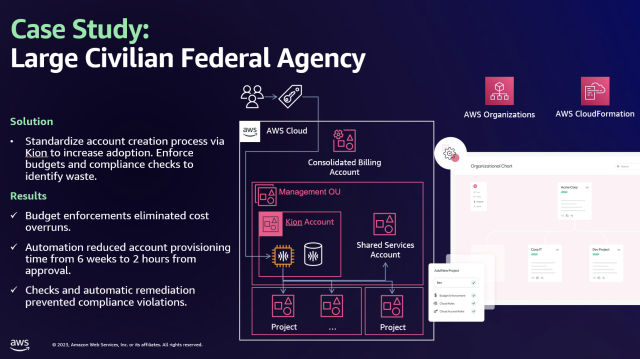 In the Booth
As always, one of the best parts of attending AWS events is the conversations we get to have with booth visitors. We heard from many visitors that a lot of organizations don't have IAM at scale under control in the cloud. (It was great to hear an attendee share with us, "I've talked to several other vendors and they don't get it. You seem to get it. I want to keep talking with you guys."!)
While IAM was the talk of the town, Shane also heard lots of conversations regarding CloudOps and prevention. AWS focused heavily on prevention over detection, reporting, or remediation during their keynote session.
If you stopped by our booth, we hope you were able to get your hands on one of our custom Koozies. We thoroughly enjoyed seeing which Kion Koozie message resonated the most with booth visitors.
Learn More
If you weren't able to attend AWS re:Inforce this year or didn't have a chance to stop by our booth, we've listed a few resources below to show you how Kion can help your organization identify gaps, remediate findings, and ensure multi-cloud compliance.
Start your cloud enablement journey.
Request a demo today,