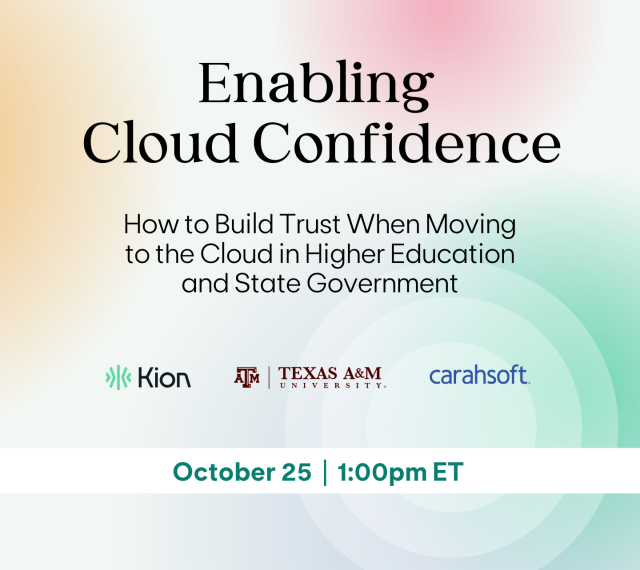 Last updated on October 12th, 2023 at 12:01pm
How to Build Trust When Moving to the Cloud in Higher Education and State Government
The biggest barrier to successful cloud adoption is often trust. Trust that a team won't cause a runaway cloud bill or run afoul of a compliance standard. Trust that an IT organization can deliver the support necessary to help a team get things done in the cloud. IT organizations in higher education and state governments are similar when it comes to tackling cloud challenges: both have common roles and mandates around serving citizens and students cost-effectively and securely - while delivering value to their cloud project teams.
Join Kion and Texas A&M University to learn how to build trust during cloud adoption by ensuring your project teams get what they need from the start - and you stay on budget and compliant.
Specifically, we will discuss:
A case study from Texas A&M University about how they've built an automation-first approach in the cloud that delivers value to team members
Insights and tips to help you ensure cost control and ongoing compliance
Techniques to build cloud expertise and deliver value to your cloud users
Our speakers, Shane Quinlan, VP of Product at Kion, and Andrew Marcontell, Executive Director of Solutions Engineering at Texas A&M University, have many years of experience helping team members achieve cloud success.
Register now to save your seat - and get tips from Shane and Andrew to help you build trust during cloud adoption.
Start your cloud enablement journey.
Request a demo today,